HIST610 Irish Revolution 1912-1937
Academic year 2017/18
Each week has a short reading list to supplement the documents in the handbook. The documents are taken from a variety sources; public records, memoirs, newspapers, parliamentary debates, speeches. Be sure to think about the nature of these sources when reading them. Who wrote the source? When? Why? What is its value? How best can it be used?

****There are a number of excellent general 'text' book types to cover this period and it might be useful for you to consult one or two of these each week as general background, to supplement your specialized reading. Where possible I will indicate the various chapters from a few for each week. Also if there is anything specific I wish you to read I will send you details of the article the week beforehand.

Introductory reading

183 items

The following provide the best introductory coverage

Irish constitutional politics

7 items

Ireland and the First World war

29 items

Revising the rising - Máirín Ní Dhonnchadha, Theo Dorgan 19910946755256,0946755248,9780946755257,9780946755240

Book

Cultural nationalism

4 items

The Irish Revolution

120 items

Irish Nationalism

7 items

Northern Ireland 1920-37

17 items

Women and the Irish revolution

8 items

The Irish Free State

11 items

Electronic offprints

8 items

Essential readings for specific weeks. I will tell you each week what to read.

Creative Commons Attribution-NonCommercial-ShareAlike 3.0 Licence
Profile Required
Reading intentions and notes are stored against your user profile. Please create a profile to use this feature.
My notes
You must be logged in to add a note
What are item notes?
You can use item notes to make personal notes on any of your reading items. Notes are private to you and will not be shown to other users.
You can review your item notes from the list, the item page or from your profile page.
---
How do I create an item note?
To make notes, first you must be logged in. Once logged in, simply click Add note? next to the list item you wish to make notes on. You can also make notes at the bottom of every item's detail page.
Your note will be saved automatically as you type.
Have you read this?
You must be logged in to set a reading intention
What are reading intentions?
Setting up reading intentions help you organise your course reading. It makes it easy to scan through your lists and keep track of progress. Here's an example of what they look like: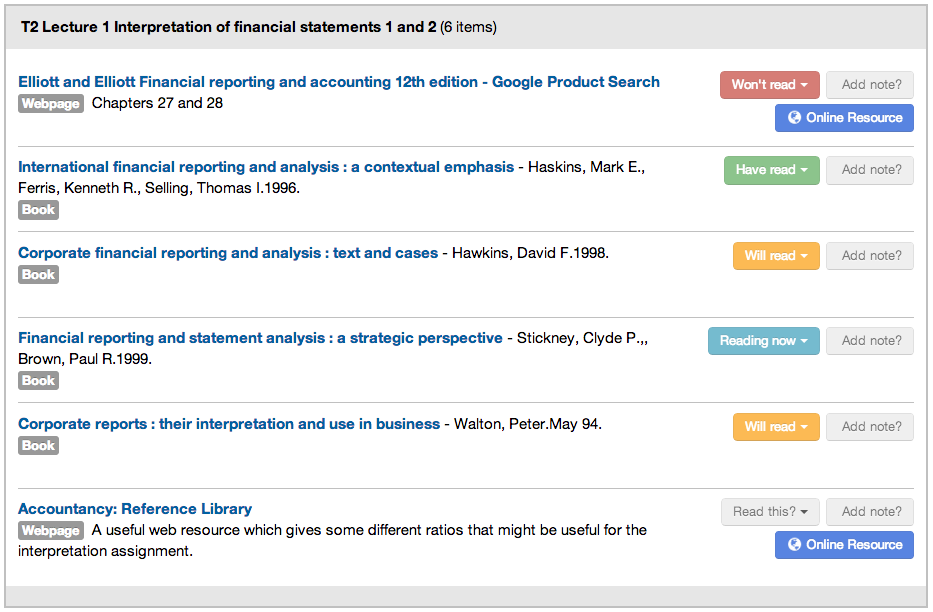 Your reading intentions are also stored in your profile for future reference.
---
How do I set a reading intention
To set a reading intention, first you must be logged in. Once logged in, click Read this? next to the list item you wish to set a reading intention for.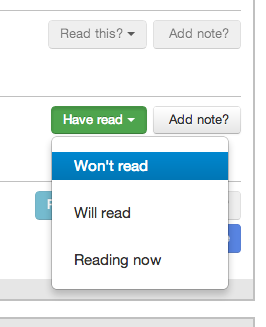 You can also set the reading intention from every item's detail page.