CLI712: Core reading for sessions
Academic year 2017/18
Details preparatory reading you should do before each session, with consolidation materials for after the sessions and suggestions for additional further reading. Please also check the rest of the Moodle site for other, non-reading focused, preparatory tasks and consolidation activities. These will be found in the section of the site describing each teaching session.
Most of the online resources should be available offsite. However, you will need to be logged in to the university website to access the full text of some items which require an Athens log-in. It may be best to navigate to resources via the library website. These reading lists can be accessed via the library pages as well, by going to the 'Reading Lists' tab and searching for CLI712.

The library provides further guidance about off-site access to online resources - there are some changes being made to how off-site access works so do keep checking the library's advice.

Session One: Selecting 'the right people'

44 items

In preparation for Session One, we would be grateful if you could do some preparatory reading. The articles below will help to provide a context for the first session.

If you would like to read more about the policy background to widening participation in the UK, the Higher Education Funding Council for England's website is a good place to start.

The following papers also provide a good introduction to the theme of widening access in medical education.

Tutor suggestions for further reading

35 items

Session Two: Internal structure - blueprinting, standard setting and psychometrics

7 items

Tutor suggestions for further reading

3 items

Assessment in health professions education - Steven M. Downing, Rachel Yudkowsky 2009 (electronic resource)

Book Recommended This is a link to the e-book. The University Library also has hard copies which can be found using Primo.

Session Three: Assessing clinical practice

21 items

Norcini, J. (2014) 'Workplace assessment' in Swannick, T (ed). Understanding Medical Education: Evidence, Theory and Practice, pp.279-292. Book chapter: Essential.

The below leads to the most recent edition of the e-book. You may also be interesting in exploring other chapters.

Tutor suggestions for further reading

18 items

Session Four: Regulation as assessment

13 items

Tutor suggestions for further reading

11 items

Archer, J, Regan de Bere, S, Nunn, S, Clark, J, and Corrigan, O. 2012. Revalidation: in Policy.

Archer, J, Regand de Bere, S, Nunn, S, Anderson, A. 2014. Revalidation in Practice: Shaping the future development of revalidation.

Regan de Bere, S, Nunn, S, Archer, J, Chatterjee, A, Bryce, M. 2013. Patient and public involvement in medical revalidation.

Boak, G, Mitchell, L, and Moore, D. 2011. An explanation of options for the delivery of revalidation: A project for the Royal Pharmaceutical Society of Great Britain. London: Prime Research and Development, Ltd.

General Dental Council. Revalidation for dentists: our proposals. The webpage this links opens also contains links to other relevant documents on the development of a revalidation model for UK dentists.

General Medical Council. An introduction to revalidation. This webpage contains links to a number of documents on GMC revalidation policies and processes. Of particular interest is Ready for revalidation: the Good Medical Practice framework for appraisal and revalidation.

General Medical Council. 2011. CPD - the international perspective.

Health and Care Professions Council. Current approaches to revalidation amongst UK health professional regulators. The webpage this link opens also contains other relevant information and documents on the HCPC's vision for a revalidation model for its registrants.

Session Five: Remediation - saviour or fallacy?

13 items

Please look at the following items in preparation for the session.

The National Clincal Assessment Service Publications page provides links to many documents. Of particular interest are Understanding Performance Difficulties in Doctors (NCAA, 2004) and Professionalism - dilemmas and lapses (NCAS, 2009).

Tutor suggestions for further reading

11 items

Session 6: Tutorial support for assignments

3 items

Please ensure that you also review the exemplar assignments on the module Moodle pages, and check the Study Skills reading list for materials supporting essay writing generally and the particular skills of critical analysis and reflective writing.

The Journal Information reading list contains links to key journals which you may use to help you identify relevant literature, alongside database searches.

Creative Commons Attribution-NonCommercial-ShareAlike 3.0 Licence
Profile Required
Reading intentions and notes are stored against your user profile. Please create a profile to use this feature.
My notes
You must be logged in to add a note
What are item notes?
You can use item notes to make personal notes on any of your reading items. Notes are private to you and will not be shown to other users.
You can review your item notes from the list, the item page or from your profile page.
---
How do I create an item note?
To make notes, first you must be logged in. Once logged in, simply click Add note? next to the list item you wish to make notes on. You can also make notes at the bottom of every item's detail page.
Your note will be saved automatically as you type.
Have you read this?
You must be logged in to set a reading intention
What are reading intentions?
Setting up reading intentions help you organise your course reading. It makes it easy to scan through your lists and keep track of progress. Here's an example of what they look like: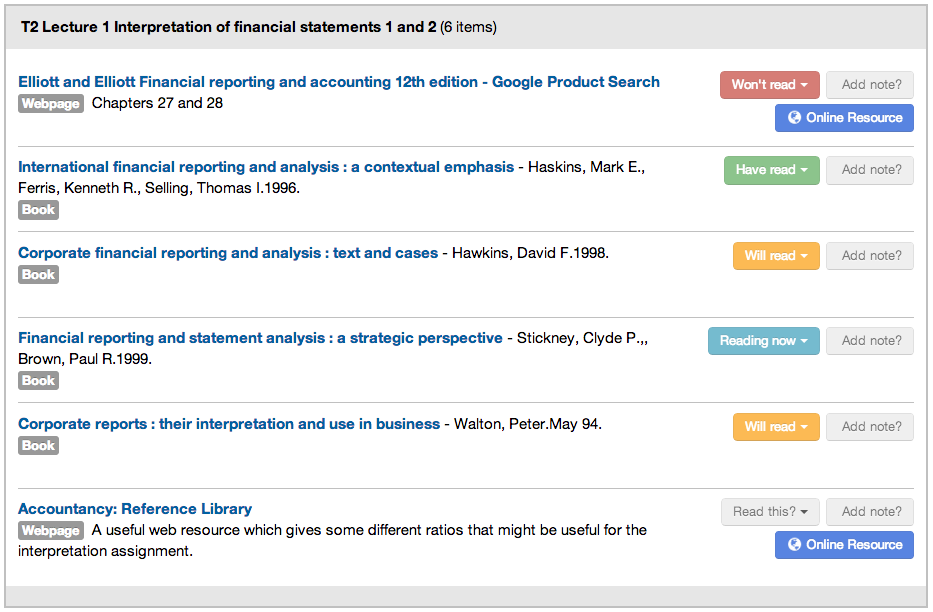 Your reading intentions are also stored in your profile for future reference.
---
How do I set a reading intention
To set a reading intention, first you must be logged in. Once logged in, click Read this? next to the list item you wish to set a reading intention for.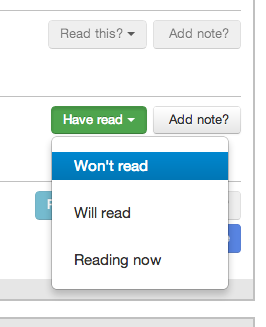 You can also set the reading intention from every item's detail page.