BEd Primary Music Specialism Y2
Academic year 2017/18
Resources related to effective primary music teaching and some introductions to conducting research.
Teaching primary music - Alison Daubney 20171473905710,9781473905702,9781473905719

Book Essential This great new book should be on your shelves somewhere accessible!

Music in Schools: Wider Still, and Wider

Document Essential This is still OFSTED's latest music inspection report. (The new head of OFSTED, Amanda Spielman, has ordered a review of the Broader Curriculum in general in 2017.)

Music, mind and education - Swanwick, Keith 19880415014794,0415014786

Book Swanwick's model of musical development is the 'classic'.

Teaching music musically - Swanwick, Keith, MyiLibrary 1999 (electronic resource)

Book Essential This resource is available as an e-book. Chapter 3 is very thought-provoking and a good way of thinking about music in primary/early years education. Don't worry if the musical notation means nothing to you - it's all in Swanwick's text anyway!

Primary Music Toolkit – ISM Trust - Alison Daubney 2017

Webpage Recommended This is a free online resource for teachers. It makes a good starting-point for all aspects of classroom music teaching.

'growth mindset' and conceptions of musicality

8 items

creativity - some focus on music, others are more generic

10 items

Creativity in the music curriculum - Sarah Hennessy 2009 (electronic resource)

Chapter Chapter 11 in the complete online book 'Creativity in Primary Education' edited by Anthony Wilson (second edition: the third edition is below - but not online). "This chapter summarises what creative music-making is and how we can ensure all lessons in music help children to develop creativity. Creative-music making will reinforce and help children to develop their musical ideas, increase and strengthen their abilities in controlling sound, encourage social interactions through and around music and give meaning to their music learning." Tara, Y2

Musical Creativities in Practice - Pamela Burnard9780191628986

Book A book about the many ways people can be musically creative. Appendix D has 'Ten Myths about children's musical creativity' which is well worth a look.

Musical play - Marsh Kathryn, Susan Young

Chapter About musical activity that children get involved in voluntarily and of their own accord.

Using technology to unlock musical creativity - Watson, Scott 20110199742766,9780199742769

Book Watson's "8 principles" make an interesting starting-point for thinking about how to support classroom composition. The quotation on p37 rings true, too. Modelling and coaching are discussed, and Kaschub and Smith's 'five foundational correlates' (p83) are suggested as useful prompts to provoke thought about emerging compositions.

Singing and vocal development - Graham F. Welch

Chapter Outlines how children's singing develops from newborn to end of primary and emphasises that the rate of development varies enormously. Stresses the impact of teacher expectation and teaching skill.

Voice-training and conducting in schools - Jacques, Reginald 19630193134020

Book Despite its age, there is plenty here that is still relevant. I particularly like the suggestions for getting to know a new song before teaching it (pp59-63 & ff) whether or not you are a keyboard player.

teaching approaches including SEN and First Access

15 items

The Short Guide to Accessible Music Education

Website Recommended This guide has been written with inclusion in mind, particularly considering children with special needs and/or disabilities. It is full of useful links and thought-provoking ideas which will help every teacher of music to improve their provision.

Escaping the classical canon: changing methods through a change of paradigm - Ann C. Clements1443836583,9781443836586

Chapter Interesting because of its critique of the way Lucy Green's proposals have been so whole-heartedly adopted into the 'Musical Futures' approach to teaching in Key Stage 3 that this is now often the only approach used. She contrasts it with the 'apprentice' approach.

appropriate assessment

6 items

An Introduction to Music - Vanessa Young

Chapter Essential The 'planning and assessment' section of Young's chapter very nicely encapsulates what appropriate assessment in music is all about, especially from half-way down p189 for a page or so.

Assessing creatively - Regina Murphy 2013 (electronic resource)

Chapter Focuses on assessing by noticing, with an emphasis on formative uses of assessment (AfL i.e. assessment for learning). The introduction, the discussion of Afl and the 'things to look for' near the end are all very helpful. I'm less sure about the 'rubrics' section: I suggest you consider the judicious use of learning objectives and success criteria.

Formative assessment in action: weaving the elements together - Shirley Clarke 20050340907827,9780340907825

Book Though not specific to music, Shirley Clarke is widely read and did much to get Assessment for Learning used in the classroom. Chapters such as those on learning objectives and processing success criteria are clearly explained. Lots of 'how to' included in Clarke's explanations. Effective questioning chapter recommended.

journals and other places to look...

9 items

Creative Commons Attribution-NonCommercial-ShareAlike 3.0 Licence
Profile Required
Reading intentions and notes are stored against your user profile. Please create a profile to use this feature.
My notes
You must be logged in to add a note
What are item notes?
You can use item notes to make personal notes on any of your reading items. Notes are private to you and will not be shown to other users.
You can review your item notes from the list, the item page or from your profile page.
---
How do I create an item note?
To make notes, first you must be logged in. Once logged in, simply click Add note? next to the list item you wish to make notes on. You can also make notes at the bottom of every item's detail page.
Your note will be saved automatically as you type.
Have you read this?
You must be logged in to set a reading intention
What are reading intentions?
Setting up reading intentions help you organise your course reading. It makes it easy to scan through your lists and keep track of progress. Here's an example of what they look like: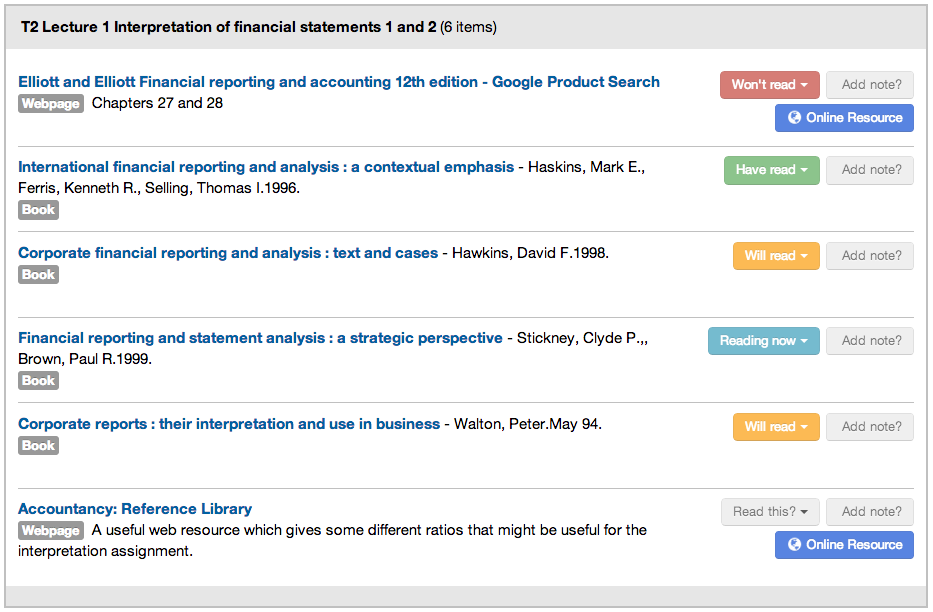 Your reading intentions are also stored in your profile for future reference.
---
How do I set a reading intention
To set a reading intention, first you must be logged in. Once logged in, click Read this? next to the list item you wish to set a reading intention for.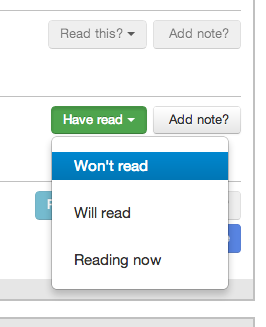 You can also set the reading intention from every item's detail page.